Seal That Silver Mine #5: 6/10/73
In which the Orange Sunshine envelops the Allman Brothers.
This week, we attempt to tackle one of the classic '73 Dead shows—well, "we," but really Ed, because I'm not sure I'd have been brave enough. But it's a titanic set, even just in terms of runtime. There's a lot to chew on here, so take your time, pace yourself, pull up a Washington Diplomats game on YouTube, and let 'er rip. —KL
June 10, 1973: RFK Stadium, Washington, D.C.
As I spend more time editing others' work than I do writing my own these days, this project has been eye-opening as I choose the shows. In the first two essays, I called on a show that I had a personal fascination with — ATL '77 — and a show I could place into context around my early fandom.
This time, it was more difficult.
I assume I should take one of the all-timers. I should do 2/14/68 or 8/6/7 — right? It's clear that I can't pull that off, at least not yet.
I am a classic 1990's, pre-internet Deadhead. A lot of my experiences with the Dead revolve around what was available, rather than what was classic. I don't think I even heard a show earlier than 8/13/75 — which is "One From the Vault" — until I got broadband access and began downloading ripped tapes on KaZaa. That was often unsatisfying.
To find motivation — and something interesting to say — I need a personal hook.
So here we are at 6/10/73 in Washington D.C. at RFK Stadium. Just 7 miles away from this concert, Nixon was ruminating in the White House and, as history tells us now, was desperately trying to protect the incriminating recordings of the Watergate break-in.
On that likely hot-as-hell day the Grateful Dead headlined a three band show that included Mobile, Alabama's own Wet Willie and the Allman Brothers Band, easily my father's favorite band.
I have always wanted to spend some time with one of the shows where the Dead and the Brothers shared the stage. They have a fun intertwined period in their careers, and clearly maintained affection for each other through their twilight.
Related: Greg Allman covered "Black Muddy River" on his last album in 2016. It was a rough one and I have a very good story about that recording session, which I will hang onto for another occasion.
This show was the second night of a pair of shows that the group played. It's a damn marathon of a Dead show, with three sets clocking in at four and a half hours. It was apparently a big fucking problem for the local cops…
When the horde descended upon Washington, pandemonium ensued. District police made a decision to allow concert-goers to hang out all night in the open area surrounding RFK Stadium--"If 2,000 kids show up and sit on the grass all night, there's not a hell of a lot you can do about it," Lt. Albert Yowell explained to the Washington Post. The bands' fans took him up on that, partying until late and then sleeping in their cars outside the stadium so that they could get to the front of the line. They left mounds of trash and beer bottles in their wake.

According to a lengthy account of the concert by Washington Post reporters Lawrence Feinberg and Tom Zito, things soon got even more chaotic. On the morning of Saturday, June 9, the turnstiles were scheduled to open at noon. But 45 minutes before that, a restless mob of 2,000 tore down a gate, and about half of them forced their way into the stadium before District police were able to blockade the entrance. At that point, stadium officials decided to open all of the gates, and thousands more rushed in to grab seats, which weren't reserved.
H/T https://blogs.weta.org/boundarystones/2016/06/09/1973-grateful-dead-and-allman-brothers-mega-concert
This is a lot of Dead — and a lil' bit of the Brothers and more — so let's get into it.
The show starts with "Morning Dew," which is WILD. It's like they knew they were going to have to keep pace and were jogging to start the marathon. It is a very good one. Imperfect in that very good Dead way.
There's a tape fuck up and then we're dropped right into "Beat it on Down the Line" and the crowd has an excuse for dancin'. I enjoy Keith's rolling piano and Donna Jean's vocals here. Also, this is a nice mix, with the instruments separated so you can get a nice read on what's happening.
It's a solid Phil performance throughout. I adore a good Phil show, and this one delivers. The first set rolls through "Ramble on Rose," "Jack Straw" and the final performance of "Wave That Flag" - the proto "U.S. Blues." It's fine. Probably worth a listen for completists.
Back to Phil.
We get "Box of Rain" and I love this song. We all know Phil can't sing, but with the lift of harmony - and an excellent bass throb - it's lovely, and leads to a great, danceable "They Love Each Other." Phil is rolling.
There isn't a lot of jamming going on so far. They're dutifully running through the tunes. We pick it up with "The Race is On," which gets a nice cheer from the crowd and everyone plays dress up cowboy for a few minutes.
"Row Jimmy" takes over and we get a breather. Then the band ropes more doggies with "El Paso."
It's worth noting (for me, at least) that the previous night's show was opened by Doug Sahm, a San Antonio native that went on to found the Sir Douglas Quintet and, later, the Texas Tornados with Flaco Jiménez, Augie Myers and Freddy Fender. True South Texas royalty there.
I've seen Augie and Flaco since I moved to San Antonio. Flaco's brother Santiago Jiménez Jr., was recently serenading the city streets a few weeks ago as we're stuck in quarantine. Someone asked him why he was risking his life to perform. He said, "La gente nos necesita."
Next up is "Bird Song." The best versions of this tune are when Phil is on his game, and he is. It's the first gentle opening of the jams that would come later. It melts away into an uptempo, Keith-heavy "Playing in the Band." I bet they lugged a damn grand piano up there. They fly it into the end of the first set. It's a solid and unique first set, but the madness kicks in from here.
The second set kicks off with an unhurried "Eyes of the World" that spirals into a 20+ minute jam that collapses into a very gentle "Stella Blue." The band is ready to break out of the jog that the first set began and starts to test a gallop as it fires up "Big River," which Keith grabs by the throat in a boogie-woogie gallop and sends Jerry into a tizzy.
"Here Comes Sunshine" gets all the hippies working their hula hoops and takes its sweet time before the band lets it die. Then, "Around and Around." I am among the Deadheads that do not mind most of the Chuck Berry covers. Regardless, it ain't anything special.
But this is:
Phil tells the crowd they're going to "tune up real good for this next one" and a goddamn 26 minute "Dark Star" begins. If you want, you can probably begin the whole damn concert here. It's a deep heavy lift of a jam that features Phil absolutely bombing the walls of the Washington D.C. Diplomats' home field.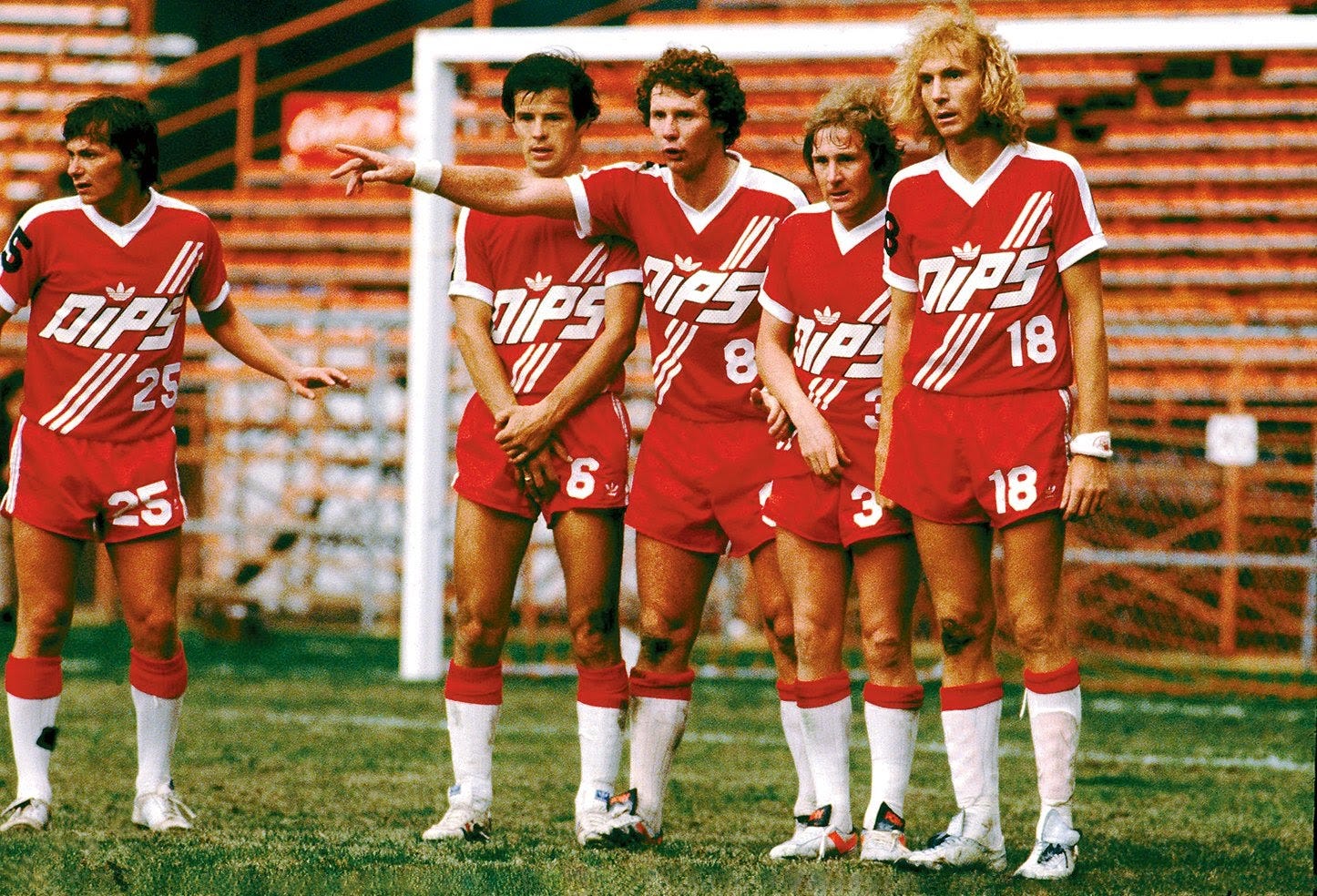 He gets some really interesting strum-jamming and it's a really interesting departure. If you don't have the will to slog through all of this show, this is among the high points as far as good old weird improvisation goes.
This titanic "Dark Star" inexplicably becomes "He's Gone," into "Wharf Rat," into "Truckin."
Even after listening to it several times, I am baffled. The sequence makes no sense at all, but flows beautifully. It is one of those tricks that Dead seem able to perform both rarely and at-will: to suddenly take tunes that are tonally much different and run them together through their collective and spit out a new calculation.
This nearly hour-long block of a jam is absolutely "hot as a pistol, but cool inside." It's the musical high point, though not the true crescendo.
The second set wraps up with "Sugar Magnolia." It's the true last pure-Dead moment of the show.
THIRD SET. All-star jam time.
Playing with the Dead must've been damn near impossible. David Crosby recently talked about how difficult it was on the "Freak Flag Flying" podcast, which I would recommend.
https://play.acast.com/s/freakflagflying/0baa4812-8263-4e2e-bb67-a2a0a1d94b66
Even musicians that were comfortable with Jerry seemed generally uncomfortable with the Dead, like Merl Saunders and Melvin Seals. How neither of those guys ended up in the Dead at any point is weird to me.
The Dead famously didn't communicate on stage much. They just knew each other's mannerisms and the songs are so ingrained that they knew how to anticipate each other's takes. A brave and confident performer - Bradford Marsalis or Bruce Hornsby - can jump into their world and relish it. When a performer has the confidence to jump in, the Dead members are generous. But if you wait for them to lead, you would likely get lost.
Dickey Betts, Merl Saunders and Butch Trucks join the Dead for the third set. Though there are brief moments when you can dig Merl out of the mix, Butch is also lost in the swirl until an outstanding Drums later on.
They kick off the set with "It Takes A Lot To Laugh It Takes A Train To Cry." It's a song Merl and Jerry play together, but no one seems really into it. There's some milling about until Jerry just jumps into "That's Alright Mama," which wakes Dickey. It takes a little while for the mix to hone in on him, but Betts' tone is very recognizable. By the middle of the tune, he's rolling up and down solos. It's not particularly inspired, but again, they're all trying to figure it out at this point.
The all-star team up runs through "Promised Land" and again, there are just too many super high people on stage at the moment for anything exciting to happen.
As it often does, "Not Fade Away" saves the day.
Here's what we get for the rest of this show: Not Fade Away > Going Down the Road Feeling Bad > Drums > Not Fade Away > Johnny B Goode.
There are a lot of high moments here. Dickey lands in some familiar Allman Brothers licks and occasionally the jams sound as if leads from "Elizabeth Reed" are laid on top of the Dead. It's disorienting. I suspect it was thrilling to the crowd — like having Batman suddenly showing up to fight the Avengers.
Suddenly things make a little more sense. An order is established. Jerry starts off, then backs away to encourage Dickey to come up. Dickey comes in hesitantly and then teases the crowd and — intentionally? — pushes the Dead to drop into Allman songs a few times. They never take the bait. I wonder if they noticed. Bobby is just doing the same things he always does and I find that charming and grounding in this weird jam. At one point he seems to try to get them to play "Mexicali Blues," and again, no one follows.
I do really enjoy Dickey's tone. It's very different from the Dead. It has a nice cascading sound that the big ol' Les Paul brings, which is so familiar to rock n' roll, but foreign to the Dead.
It's a mess, frankly. There are some great moments, but it never fully gels. The morass of musicians kind of coalesces around "Going Down the Road Feeling Bad" and it is very interesting to hear Oakley on "Drums," but otherwise, the clouds don't part and angels don't descend from heaven. When I close my eyes and listen though, every now and then I can just touch the feeling that that exhausted crowd must've felt, the elation of seeing something that can't be repeated - even when everything doesn't click.
— Ed Arnold
The Other One
My music habits haven't changed much during quarantine: I listen to a lot of stuff I've already listened to, and very little of it was recorded after the year 2000. The other day I did a deep dive on Captain Beefheart's The Spotlight Kid and still really like that record, and especially "Click Clack."
But, I started on a project where I was going to write a blog post about every Captain Beefheart song and then bailed after three or four posts, because, how do you write a whole post about this? What is there to say? Our particular jam starts around 3:30:
I'm not sure why the drummer is wearing bikini bottoms on his head. He's probably just doing as he was told.
— Kevin Lipe